Commitment, re-engagement policy: what the doctor ordered for Zim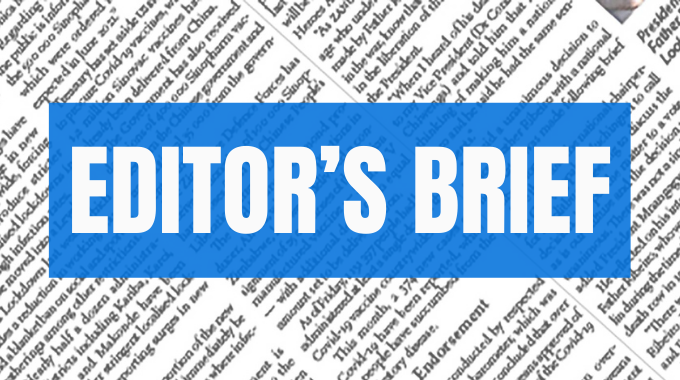 Editor's Brief
Victoria Ruzvidzo
Zimbabwe's foreign policy, based on commitment and re-engagement, has emerged as a key pillar of the National Development Strategy 1 (NDS1).
When it all started with the coming to power of the Second Republic, some people thought it wouldn't yield much, but in a few years this program has done a lot, directly and indirectly.
The ship has stabilized except for a few challenges that the nation is working on.
Much of the progress is attributed to improved relations between Zimbabwe and other countries and global institutions.
"The world has been misled into labeling Zimbabwe a haven for human rights chaos and backward in the rule of law. A careful examination of the sanctions that were annexed to Zimbabwe proved how unhappy Britain was with Zimbabwe's noble decision to return ownership and control of Zimbabwean lands and resources to Zimbabweans. The Eurocentric transition mechanism imposed on Zimbabwe through the illegal sanctions had placed Zimbabwean resources, sovereignty and institutions on Western cannibalistic cutting boards.
"It's so calming that the Second Republic's engagement and re-engagement program has lubricated the KP's mindset. They realized that the aggression against the Zimbabwean gems was based on Western selfishness and individualistic tendencies," commentator Alex Manjonga said when Zimbabwe was elected vice-chair of the Kimberley Process.
The thawing of relations has brought enormous benefits that have impacted the gross domestic product (GDP) of the country across sectors such as mining, agriculture, manufacturing and others.
The president said so.
It makes a good case for persisting on this path.
Zimbabwe comes from a path where many would open their eyes wide and take a keen interest if you introduced yourself as a Zimbabwean.
How could you 'brag' about being Zimbabwean at a time when the country was so negatively labeled and apparently fighting much of the world. Of course, the narrative changes and it is through a deliberate and intentional strategy of engagement.
It must continue.
There are pockets of resistance, reluctance and lethargy in some potential partners who should play ball and prepare for Zimbabwe's openings.
Re-engagement implies disengagement at some point. This was inadvertent, as it was certain powers that devised and implemented measures to isolate and frustrate Zimbabwe through the arbitrary imposition of sanctions, summed up by the ZIDERA Zimbabwe Democracy and Economic Recovery Act of 2001 .
True to form, other Western powers followed suit, taking inspiration from the United States.
It is madness to believe that the sanctions are targeted, far from it, they have had deleterious and expansive effects on the whole economy.
We learn from the history of the Politics of Splendid Isolation, which is an oxymoron writ large, for how can isolation ever be splendid, more so now in a global village?
Nations form symbiotic, mutually beneficial relationships.
This is evident in trade and commerce. This is seen in the diversity of humanity and how this promotes tourism and fosters an interconnectedness that a disease like Covid-19 has poignantly highlighted.
Despite certain condescending attitudes of certain powers, humanity is inextricably linked.
In the final analysis, one might as well face a collective destiny.
The question of sanctions and the resulting isolation transcends political affiliation.
This is an unavoidable national issue that invites us to join a cause that affects us all, regardless of the party we support.
Education, health, economic development, societal safety nets, among others, have been negatively affected.
The idea that sanctions inflict suffering on the population, thereby leading to a change in political dynamics, is tragic and misplaced. Of course, you can't cut off the nose to upset the face.
I believe that political challenges should be based on other dimensions.
That the sanctions are not targeted was confirmed last year by UN Special Rapporteur Alena Douhan.
This, after witnessing firsthand their devastating effects on the local population. It is one thing to disagree on substantive issues and quite another to do so for inane reasons. It is important to remember that the 2nd Republic inherited an economy in ruins, with staggering over-indebtedness.
Those in the know will attest to how difficult it is often to turn around a single company, let alone an entire country.
We take comfort from the milestones covered over the past few years.
Indeed, with regard to our engagement and re-engagement dynamics, notable and encouraging progress has been made, a few examples will suffice.
The President spoke with US President Joe Biden during his visit to Scotland for the COP26 climate change conference.
It provided an opportunity to assert our position rather than being branded an 'outpost of tyranny'.
In addition, the President met with the Commonwealth Secretary General, Baroness Patricia Scotland, and it appeared that the group was open to hosting Zimbabwe again.
Work in progress in this regard. In addition, French President Emmanuel Macron is facilitating the rehabilitation and upgrade of the Great Zimbabwe monument worth over three million euros.
Importantly, Britain is no longer part of the EU, so the group no longer has the only member who campaigned for sanctions within it.
Significantly, Zimbabweans have also risen to global and continental leadership roles.
He is now vice-chairman of the Kimberly Process Certification Scheme KPCS, a body made up of diamond-producing nations, with representatives from 82 countries.
The appointment of Chief Fortune Charumbira as President of the Pan-African Parliament (PAP) also bodes well for the country.
He is the first in the Sadc region to vote unanimously to assume it.
What does all of the above reflect?
May Zimbabwe increasingly integrate into the community of nations, may the government's engagement and re-engagement efforts bear fruit.
We learn that the sanctions violate Article 41 of the United Nations Charter. Legally, economically, socially, politically and morally they are profoundly deficient.
As our engagement and re-engagement campaign continues, we will continue to reap growing benefits.
The international community will increasingly support us, as it clearly already does.
Some of our challenges stem from low production levels, but that is already being resolved. Other commentators point to the trade deficit, a fair point. Increasingly, as we improve import substitution and increase exports, we will achieve this. More investment is essential and the mantra 'Zimbabwe is open for business' indicates that while we can do more for businesses vis-à-vis convoluted registration processes, for example, lack of access to international finance is another challenge, attributable to history and sanctions.
Indeed, engagement and re-engagement invite amplification.
In God I believe!
Twitter username: @VictoriaRuzvid2; E-mail: [email protected]; [email protected]