Cultivating success through partnership within the Flathead community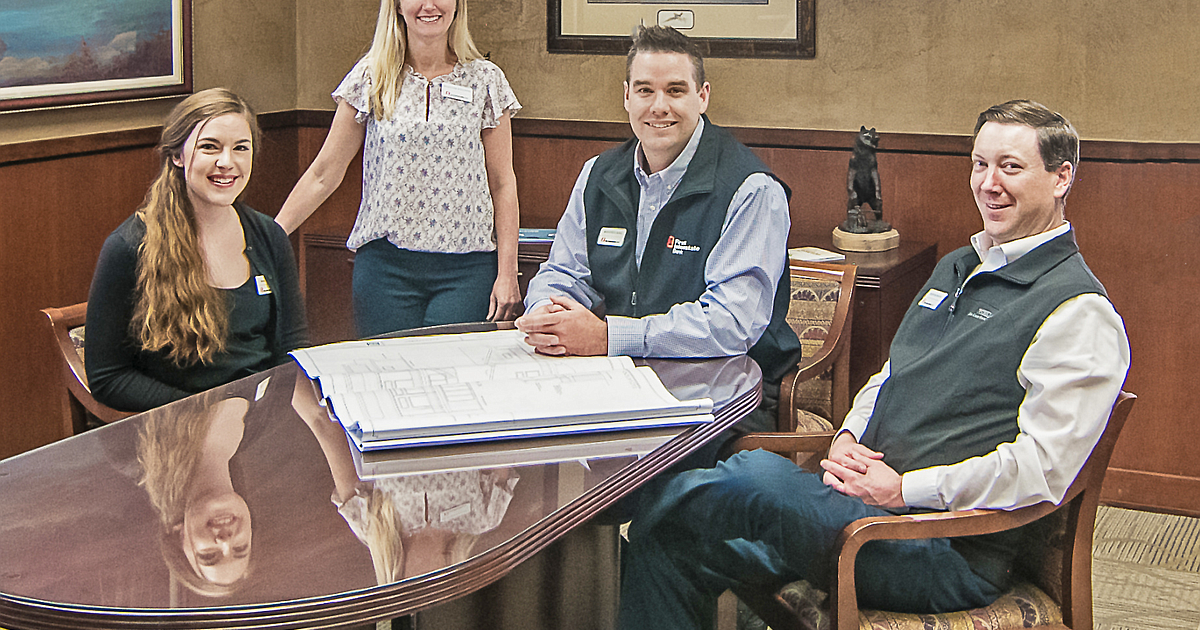 Flathead Valley is known for its tight-knit communities, full of supportive neighbors and lifelong friendships. Even as the pandemic continues, the Valley's resilience – not only to recover but also to grow through difficult times – has proven that having a community you can rely on in this unpredictable world is fundamental. This is the culture we foster at First Interstate Bank.
Coming to the Flathead market last year, I knew I was going to be working with individuals and business owners who had deep roots in this community, some for generations. But I like to remind myself that there is always room for someone who is fully invested in helping people achieve their financial goals. As a community bank, First Interstate is focused on serving our customers and the places we all call home. No matter how long our clients have been doing business with us, we are committed to being beyond responsive: we are proactive in uncovering opportunities to improve the financial situation of everyone we work with.
Invest in each individual customer
As Head of the Flathead Business Group for First Interstate Bank, my goal is to cultivate and expand our relationships within the community. First and foremost, our culture of customer service and attention to detail is second to none. Our goal is to be a trusted advisor and partner, and we strive to uphold a strong work ethic to earn that trust. In addition, all our recommendations are centered on the interests of our clients, even if it means discouraging certain loans and investments if our analysis indicates that a client could become over-indebted and jeopardize the financial security of his family.
For First Interstate, working hard means taking initiative and communicating every step of the way. We demonstrate this in particular through a proactive financial analysis of each of our clients in order to maximize all possible ways to save them money. We often find business owners who have multiple loans from various institutions at rates we can beat. They get a call from us that day asking how we can help them. Nothing excites our teams more than the potential opportunity to save our customers thousands of dollars each month in payments.
A powerful community bank
Members of the Flathead community have access to a unique financial resource with First Interstate. As a regional community bank, our bank is in the perfect position: customers benefit from first-name relationships with local staff with access to engaging products and efficient technology at their fingertips. It's a balance that's rare among banks today.
In order to offer customers greater flexibility and freedom in conducting business, we have invested heavily in technology and our various banking platforms. Customers can manage their accounts online (from anywhere with a signal), including making deposits, making transfers, sending transfers or formulating payroll transactions.
Our technology especially empowers small businesses. First Interstate offers a working capital revolving line of credit and an online hosted application process. For busy business owners, the process takes five to 10 minutes and provides a response within 48 hours; there is no need to make an appointment or deliver the financial statements in person.
While First Interstate offers the technology solutions often associated with large banks, we also keep our local branches fully staffed with support team members. If you have a question about cash management or payment fraud solutions for your business, local experts are on hand, like Treasury Solutions Manager Heather Sullivan at our Kalispell branch. She, along with the other members of our team, takes pride in finding the right solution for every person who walks through our doors. And because everyone's situation is different, we have credit card products, cash solutions and wealth management services that can be tailored to you, making our branches a one-stop shop for customers.
Continued Success in Flathead
First Interstate's local culture in the Flathead is all about making a big impact at the community level. Ultimately, we want to do our customers good, work with honesty and integrity while providing an experience that helps our customers achieve their goals. You'll hear from us often – and we pride ourselves on getting back to you within hours when you contact us.
At First Interstate, we aim to be the first resource for businesses and customers. In fact, our mission is to help people and their money work better together. Our local bankers are committed to supporting the region over the long term, and we are continually refining our products, services and community involvement to meet the needs of this region.
If you're in the middle of financial decisions – from investing in property to preparing your taxes – our team members are available to run scenarios and act as sounding boards. We're here to provide you with the information, advice and planning you need to ensure your decisions are accurate and maximize your financial well-being.
If you haven't had the chance to work with us recently, stop by one of our branches. Let us know how we can help you and the Flathead community achieve financial success.
Scott Nicholson is Commercial Group Manager for First Interstate Bank's Flathead Market. For more information, call Scott at 406-751-2509, email him at [email protected] or visit firstinterstate.com