Moorman, CSX and Amtrak Intervene in STB Day 2 Hearing: Analysis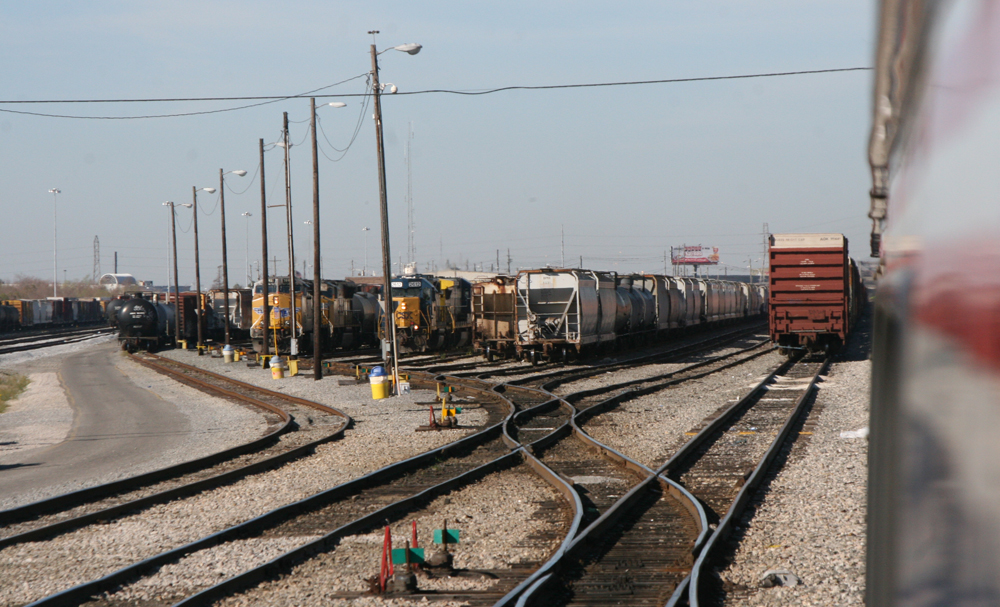 ---
WASHINGTON — Issues raised by Surface Transportation Board Chairman Martin Oberman and other board members Wednesday, during the second day of a hearing on Amtrak service on the Gulf Coast, underscored key issues on which the case is likely to be decided.
Following the conclusion of the public comment portion of the case on Wednesday, which included testimony from chief executives of Amtrak, CSX and Norfolk Southern, the hearing will resume on March 9 with the disputing parties presenting their cases to the STB.
The second day of the hearing regarding Amtrak's right to establish two daily round trips between New Orleans and Mobile, Alabama also featured expert advice from the former CEO of Norfolk Southern and Amtrak , Wick Moorman, following testimony from more than 40 people on Tuesday. [see "First day of Gulf Coast hearing brings significant new information," Trains News Wire, Feb. 15, 2022]. Wednesday's session also clarified the topics the board wants to discuss.
Two, in particular, are worth highlighting: the capacity and length of the trains, as well as the openings and improvements to the drawbridges.
Train capacity and length
Oberman referred to evidence from CSX showing that trains at Gentilly Yard, east of New Orleans, had to be assembled on the main track, "resulting in several hours of delay," he said. "It has nothing to do with Amtrak trains." Noting that CSX has paid more than $30 billion for stock buybacks and shareholder dividends, he said he wonders "if Amtrak goes away tomorrow," why CSX hasn't spent to resolve the infrastructure problems described in his report. He also noted that there are other parts of the RTC [traffic modeling] report referring to infrastructure limitations for freight service.
This, he said, is "no determination as to how this matter should be decided involving Amtrak," but raising the issue makes it clear that the STB will carefully consider whether public funds are sought to pay for the improvements. late freight.
A 3-minute response from CSX CEO Jim Foote, which began with "It's called a pandemic", clearly didn't sit well with Oberman, who replied, "You've spent $6 billion dollars less in capital than stock buybacks over the past 11 years". year."
Board member Robert Primus added, "I want straight answers, and I don't think we're getting them." Newest board member Karen Hedlund asked CSX to analyze at the March hearing "the added benefits to your system fluidity from the improvements you are requesting on behalf of Amtrak" .
During the afternoon session of the hearing, Oberman questioned the lack of any information in the RTC study on the impact of adjusting CSX's current train lengths, given that only three crossing lanes on the 144-mile route from New Orleans to Mobile are over 10,000 feet long. "What would be the impact on freight service if trains only ran long enough to accommodate existing sidings today, and only extended once new sidings were built ?" He asked. "I would like CSX to shed some light, if you can, on what kind of improvements could be made by making operational changes."
Bridge openings and improvement timelines
The STB Chairman also emphasized the disconnect between the RTC's modeling study's constant reference to random bridge openings and the need to bring bridge bidders to and from their job sites by rail vehicle. – while CSX is in the process of converting the bridges to remote operation, and has not acknowledged that the Coast Guard may be involved in the planning of the lifts.
Oberman noted that he cannot "order anyone to do anything," but said that before March 9, he would like "all parties to go arm in arm to the Coast Guard and report back to us. on what you have learned. What is their willingness to establish a schedule and how long will it take? He also asked CSX to determine when the remote process will be complete. The information that the railroad was working on remote operation was provided not by CSX, but by John Robert Smith of Transportation for America during Tuesday's hearing.
Oberman and Hedlund also questioned Amtrak attorney Jessica Amunson during the afternoon session about the timing and scope of infrastructure improvements Amtrak might be prepared to make other than those suggested. by CSX. Amtrak CEO Stephen Gardner said, "We're ready to make improvements" during the morning session.
Moorman's Insight
Earlier, former Norfolk Southern and Amtrak CEO Wick Moorman highlighted successful agreements between his two former employers to add services to Norfolk, Lynchburg and Roanoke, Va., and across North Carolina. Piedmont corridor, as examples of "win-win" collaboration. Without it, he says, "a neutral party must step in."
According to Moorman, the key requirements are that both parties must be willing to work together, be fully transparent, acknowledge delays even if no passenger trains are added, and not simply come up with a list of projects.
When he was at Amtrak in 2016, "and CSX said it was $2.4 billion [for the improvements necessary for passenger service] going from New Orleans to Jacksonville – I say this with all due respect to my CSX friends – was laughable.
As for New Orleans-Mobile's improvements, Moorman says, "There are a number. I don't know what it is, but there is a process and tools" to decide what is needed. One is RTC modeling, but he says, "We use the model to accomplish Amtrak on-time performance and reasonable freight train operation with the idea of ​​spending as little as possible to accomplish what we need. »
The dispute between Amtrak, CSX and Norfolk Southern came to the board last year, when Amtrak asked the board for a decision to allow it to start passenger service, given its inability to achieve an agreement with the freight railways. [see "Amtrak asks STB to require CSX, NS to allow Gulf Coast service," News Wire," March 16, 2021]. Freight Carriers Say Passenger Trains Will Severely Disrupt Their Operations [see "CSX, NS say Gulf Coast passenger service would 'devastate' freight operations," News Wire, Nov. 4, 2021].