Problems in the leather sector require immediate attention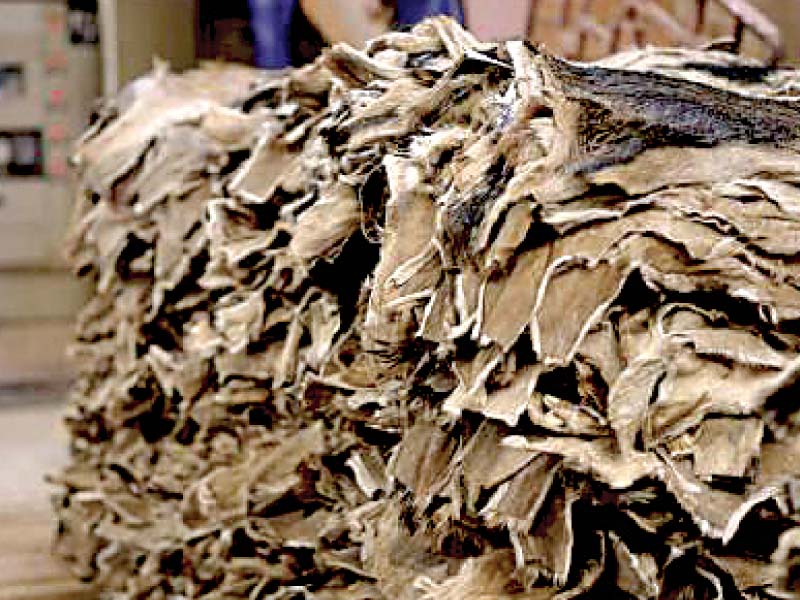 KARACHI:

The State Bank of Pakistan (SBP) Annual Report 2020-21 shows that the Pakistani leather industry contracted significantly in FY21, which requires careful attention from policymakers.
Although Pakistan's leather industry has been underperforming in recent years, the past two years have been particularly alarming for it. During these two years, a sharp drop was observed in the production of the industry, which resulted in a 9.1% and 26.4% contraction in growth in fiscal years 20 and 21, respectively.
It is ironic that the production of the leather sector has declined despite an increase in Large Scale Manufacturing (LSM) which has increased significantly despite the challenges of Covid-19. After textiles, leather is Pakistan's largest export industry, but it appears that the three democratic regimes (PPP, PMLN and PTI) have failed to tap the true potential of this segment.
Although the leather sector has benefited from a handful of incentives, including exemption from import tariffs and low regulatory fees, the desired growth in exports has yet to materialize. The main reason is the high price of imports due to the persistent devaluation of the rupee against the US dollar. Due to the lack of locally produced accessories, the majority of raw materials for making leather garments, such as zippers, buttons and threads, have to be imported. This increases the cost of production, reducing the competitiveness of Pakistani leather products in the world export market.
What the data say
Data released by the International Trade Center (ITC) showed Pakistan's leather exports increased from $ 1.25 billion in 2011 to $ 0.85 billion in 2020.
Pakistan Bureau of Statistics (PBS) data revealed that exports of leather and leather goods increased from $ 918.13 million in FY17 to $ 833.19 million in FY21. Industry profits increased from $ 765.35 million in FY20 to $ 833.19 million in FY21, an increase of 8.86%. However, this growth was observed mainly due to the weak base of the previous year.
The recent growth observed in leather exports has been observed for two reasons. First, there was an increase in the average unit price per square meter of tanned leather (from $ 10.89 in FY20 to $ 12.9 in FY21) and second, export volumes registered an increase. Overseas shipments of clothing and leather garments jumped 28.54% while exports of gloves and footwear rose 36.5% and 21.9% respectively.
Export of tanned leather
If the production of tanned leather had not fallen by 25.7% alongside a reduction in the value of other leather goods, Pakistan could have obtained much higher foreign exchange earnings.
The huge difference between the export of tanned leather in FY20 and FY21 requires some explanation. The Pakistan Economic Survey 2020-2021 shows a meager 2.5% difference in the production of hides and skins – 77.6 million in FY20 compared to 79.6 million in FY21.
The main reasons behind this are the lack of rapid collection of fresh hides and skins with modern preservation techniques and the lack of skilled and trained manpower for primary storage to avoid spoilage. Tanneries need to modernize their technologies. They should also consider establishing Combined Effluent Treatment Plants (CETP) to mitigate environmental degradation, which would help them obtain leather product certifications from accredited international agencies like the Leather Working Group ( LWG).
According to the ITC Trade Map export ranking of leather products, two of our neighbors are among the top ten exporters in the world. China ranks first with total leather exports of nearly $ 60 billion in 2020 and India is ranked 10th with an export value of around $ 3.76 billion.
Based on ITC's trade map, the total world export value of the product was $ 186.5 billion, which means that more than a third of world exports are covered by these two countries, while Pakistan's share is less than 0.5% and ranks 22nd on the list of leather exporters. This should certainly be a matter of concern to the authorities and they should find an immediate solution to the mistakes made in the past in the promotion of exports of leather and leather goods.
A country rich in livestock should have a homogeneous and high performing meat and leather industry. Pakistan is one of those countries, but we are not seeing the twin industries operating at their real potential. These underperforming industries need a well-integrated vision as well as the capacity for implementation to develop a long value chain from modern slaughterhouses to efficient tanneries equipped with the latest technology to leather garment manufacturing units. finished.
In addition to striving for a high yield from the finished leather, there are many other steps that must be taken. Since fashionable leather goods including handbags, shoes, jewelry and watches are considered high-end value-added items, the establishment of new fashion design institutes across the country is needed to increase export earnings through these items. Relying only on two large institutes, the National Institute of Leather Technology (NILT) and the Leather Product Development Institute (LPDI) to seek a bigger share in the global export pie is not good .
The writer is a mechanical engineer, pursuing a master's degree
Posted in The Express Tribune, December 6e, 2021.
As Business on Facebook, to follow @TribuneBiz on Twitter to stay informed and join the conversation.