Senate bill aims to reduce crowding in parks, Gateway points out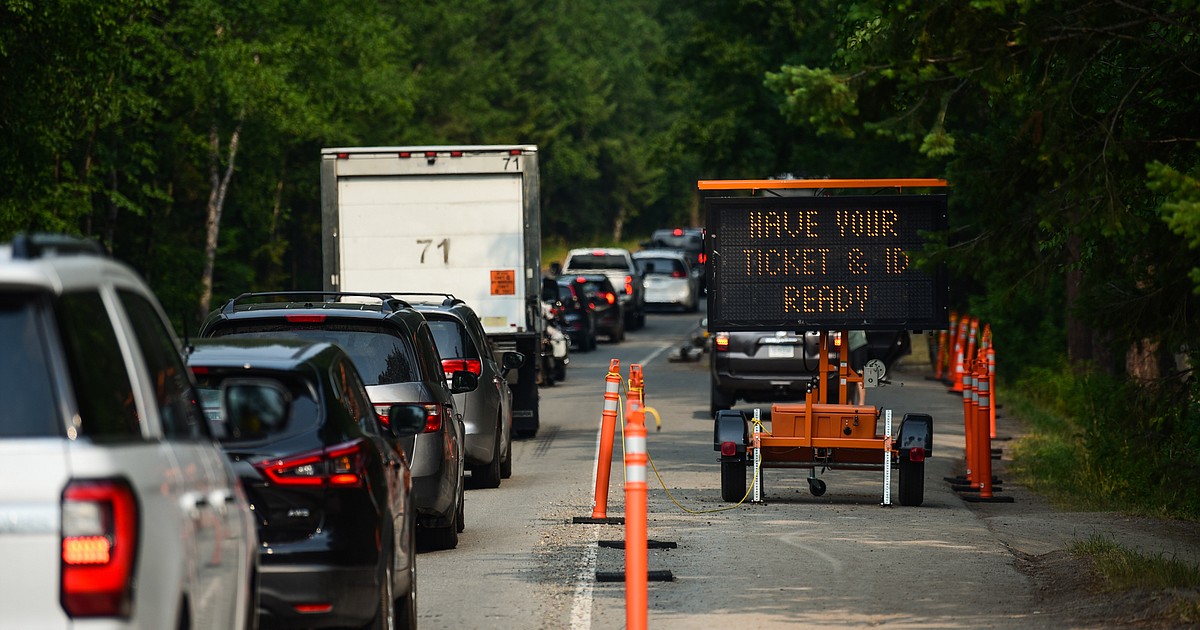 A congressional bill sponsored by Montana Sen. Steve Daines aims to bolster gateway communities overrun by booming tourism on federal lands by tapping into federal coffers to address housing, infrastructure and other issues local visits.
Senator Angus King, I-Maine, co-sponsored the bill – the Gateway Community and Recreation Enhancement Act – which was referred to the US Senate Committee on Energy and Natural Resources. Daines is the top Republican member, and King chairs the underlying National Parks subcommittee. Its oversight includes the National Wild and Scenic Rivers and National Trails Systems, Recreation Areas and Historic Sites, and the Land and Water Conservation Fund.
The proposed bill would require a two-pronged federal approach to deal with increased use of public lands and to address the resulting pressures on nearby communities. The bill would require the Departments of Interior and Agriculture to partner with local stakeholders to find solutions using existing federal funds and programs.
"They already have the tools they need to do this," Rachel Dumke, Daines' press secretary, said of the agencies. "The senators' bill is kind of like that push to make sure they follow through and make it happen."
To that end, the proposal would initially set up a pilot program between the Interior and Forest Service via the U.S. Department of Agriculture and local stakeholders to provide crowd data to visitors and highlight areas of alternative leisure with the aim of getting rid of the crowds of the main destinations.
The proposal would then require agencies to work with state and local partners, and tribes to identify and then address issues such as sustained visitation, housing shortages or struggling infrastructure.
Under the pilot program, agencies and partners would be required to produce visitation data on certain land management units like Glacier National Park no later than two years after the bill's potential passage.
Where possible, according to the proposal, the pilot program would also produce crowd data at nearby federal, state or local recreation areas.
"Through various media platforms," according to the proposed bill, the pilot program would additionally identify lesser-known recreation areas to help disperse visitors.
Initially, 15 federal land management units nationwide would be selected by the Interior for the pilot program, with five additional units selected by the Forest Service.
In five years at the latest, the agencies would be required to expand the initial list by 80 additional units, of which at least 50 would have to be managed by the Interior.
Glacier – or any other park or recreation area – was not named by the proposed bill.
Under its second tier, agencies would be required to use existing funds and programs to collaborate with "state and local governments, tribal governments, housing authorities, applicable trade associations, nonprofit organizations and other relevant stakeholders" to deepen the economy of visits. to local communities.
Through such partnerships, agencies should then identify the specific needs of the community. Agencies and partners should also "seek to meet community needs in host communities" through a variety of options.
These, according to the bill, would include the creation of cooperative agreements; offer leases, rights of way or easements; and provide financial assistance from existing federal programs.
The proposed bill and Daines' press office did not identify funding sources or specific existing programs within the Departments of Interior or Agriculture to carry out the tasks.
In a recent statement, Daines highlighted the global status of US public land management.
"Our national parks and public lands set us apart from the rest of the world, and Montana's border communities know firsthand the benefits and challenges they bring," Daines said.
"While increased recreation on our public lands and national parks supports jobs and boosts local economies," he added, "it can also put a strain on communities, housing and employees of the Montana".
OFFICIALS OF the Columbia Falls Area Chamber of Commerce – representing Coram, Essex, Hungry Horse, Polebridge, West Glacier and Apgar – declined to comment on the bill at this time, executive director Laura Gadwa wrote in an email .
Columbia Falls City Manager Susan Nicosia said simply that the senators' recognition of the impacts on local communities from increased tourism is proving remarkable. Columbia Falls is the first incorporated city adjacent to Glacier.
"I'm really happy to see it moving forward," Nicosia said.
"Obviously we hope to be part of the pilot program," she added. "We've certainly felt the impact of the extra tourism, especially when the east side [of Glacier Park] was closed and everything was concentrated here.
Above a general need to preserve locally valuable public lands, she said, there is a lack of housing and employees.
"It's huge," Nicosia said. "There is a direct impact that is straining our community in terms of housing and employees. …Let's hope that [proposed bill] will go fast. »
Racene Friede, president and CEO of Missoula-based Glacier Country Tourism, said the actions taken under the proposed bill to promote sustainable tourism coincide with those of the tourism group during the outbreaks of the Covid-19 era on public land.
"In fact, over the past two years, all of our campaigns have been about responsibly recreating, planning ahead and knowing what to expect – leaving no trace – common sense concepts for locals. of Montana," she said.
Friede said federal avenues to identify and address community stresses related to adding park visits promise a significant opportunity to help address several issues, such as adding RV dump stations, a retooling of existing campgrounds or the creation of additional campgrounds.
"The backlog – whether it's maintenance or infrastructure or being able to update utilities or whatever – is so long that, although we've made tremendous progress with the Great American Outdoors Act, there's still a lot that needs to be done," she said.
Signed in 2020, the Great American Outdoors Act leverages revenues from energy developments to fund up to $1.9 billion per year for five years after its passage to provide maintenance, facilities and infrastructure to public lands and Native American schools.
Sponsored by Colorado Senator Cory Gardner and supported by 59 Senate co-sponsors, including Daines, the landmark law also collects royalties from offshore oil and natural gas to fund the Land and Water Conservation Fund on an ongoing basis with some $900 million a year.
Reporter John McLaughlin can be reached at 758-4439 or [email protected]