The Future of Live Ventures Remains on a Razor's Edge (NASDAQ:LIVE)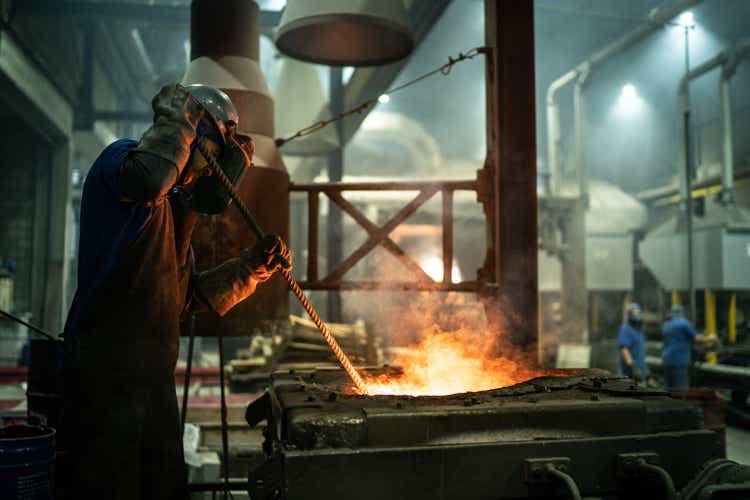 Note: I have previously written about Live Ventures (LIVE), investors should see this as an update to my previous articles on the company.
Live Ventures (LIVE) stock price has continued to channel since the crash in early August when Live Ventures, CEO Jon Isaac and former CFO Virland Johnson were indicted by the SEC. Since then, Live Ventures has seen positive developments in its underlying business, but no real positive movement in its share price. This is due to the impending SEC litigation which continues to put a damper on the stock. I maintain a cautious buying position, reinforced by the quality of the results of the last quarter.
First quarter results are impressive
Live Ventures generated revenue of $75.2 million in the first quarter, a 20.3% year-over-year increase, while net income was $6.5 million , an increase of 24% over the previous year. The fact that net income growth preceded revenue growth already demonstrates the profitability benefits that LIVE will see as it scales up operations and expands its network in every operating segment.
$3.68 million of the overall revenue increase was actually related to the consolidation of Salomon in June. Removing that revenue still shows a record quarter for LIVE, with revenue growing 2.5% from the previous quarter and still beating the previous record results of $71 million in the second quarter of last year. Considering how strong last year's performance boom was, delivering these results against the backdrop of significant economic turmoil is proof that last year's results were not a "flash in the pan". Some investors doubted the sustainability of LIVE's previous performance and the start of FY22 is proof that 2021 provided an inflection point for the company to start and continue its growth.
Looking more specifically at each operating segment, Steel Manufacturing (Precision Marshall) had the largest revenue increase of 27% to $12.3 million, which significantly increased net income (+1,048 %) at $1.6 million. At this point, this business offers some of the most exciting prospects for LIVE, due to the operating leverage it has and its ability to contribute to future earnings growth. This is another case where LIVE made significant investments and changes in subsidiaries that led to a strong improvement in financial performance.
Flooring (Marquis Industries) and distribution (Vintage Stock) also recorded growth of 17.2% and 8.8% respectively. Pleasingly Marquis reported operating profit growth of 11%. In previous quarters, Marquis had actually been under pressure on its margins and even reported a decline in operating profit in the third quarter, even though revenue had increased quite substantially – a return to revenue growth. is really positive.
Non-current long-term debt was $40.3 million at the end of the quarter, up slightly from $37 million at the end of the fourth quarter. Given that LIVE is still generating a lot of cash from operations ($4.2 million), we hope that over the next few quarters, management will again look to pay down debt and deleverage the balance sheet. $17 million of long-term debt is due over the next year. Although at present they continue to invest money in the purchase of goods and equipment ($3.07 million). LIVE's leverage ratio of 0.625 remains manageable due to strong operating cash flow generation.
SEC overhang
Given the above and the fact that LIVE is trading on a forward annualized P/E of 4.28x and an EV/EBITDA of 5.4x, it might come as a surprise that the stock still hasn't achieved a significant revaluation. However, this lack of movement may be entirely related to the overhang of the SEC investigation.
While Live Ventures looks materially undervalued on most metrics, if the SEC is successful in suing and removing Jon Isaac from the board, it will have big ramifications for the company. As mentioned earlier, Jon Isaac is literally Live Ventures. He's the man who spearheaded acquisitions and unlocked great shareholder value over the past year and owns half of the company. Losing him would create a precarious future for LIVE under new management and the potential conflicts of interest that could come with it. Nonetheless, LIVE still has significant assets on its balance sheet and a diverse base of strong operating subsidiaries that should not go unnoticed.
There were a few updates regarding the SEC investigation disclosed in SEC filings:
On October 1, 2021, the Company filed a motion with the court to dismiss the complaint. The SEC filed its response opposing the motions on November 1, 2021. The defendants filed their responses in response to the SEC's opposition on November 15, 2021. The motions to dismiss are currently pending and court no has not yet set a hearing date. Pursuant to the automatic stay of proceedings under the Private Securities Litigation Reform Act, all discovery has been stayed pending motions to dismiss.
At this point, it's mostly back and forth between LIVE and the SEC and it will be a long time before the results of this legal dispute are seen.
outlook 2022
As we approach 2022, the outlook for Live Ventures remains strong. The steel industry as a whole remains buoyant heading into the new year amid shortages, which positions Precision Marshall to thrive in the coming quarters.
Likewise, a booming U.S. housing market continues to benefit carpet supplier Marquis Industries, and that demand is expected to continue in the future as the total inventory of homes on the market has fallen below 300,000 nationwide. early January. Of course, due to the small size of Marquis and Precision, macroeconomic trends will not be directly related to these relatively small companies. Nonetheless, it helps establish the overall performance that we can see throughout the year.
Vintage on the other hand can face headwinds. Primarily linked to significant inflation risk, with CPI data hitting 7.5% last week, the fastest annual rise in 40 years. This generally negatively affects consumer discretionary companies like Vintage Stock. On the other hand, however, the massive reopening and transition to more normal life in 2022 should benefit brick-and-mortar stores such as Vintage Stock. The company clearly remains confident with three new stores opening in the fourth quarter.
Conclusion
Overall, fundamentally LIVE remains undervalued and offers plenty of reason for the market to be bullish in 2022. However, the SEC surplus cannot and will not be dismissed until it has been removed, leaving the company's future on the edge. I still maintain my position and my buy position, although I remain cautious.