Viet Nam shows strong export growth after joining the WTO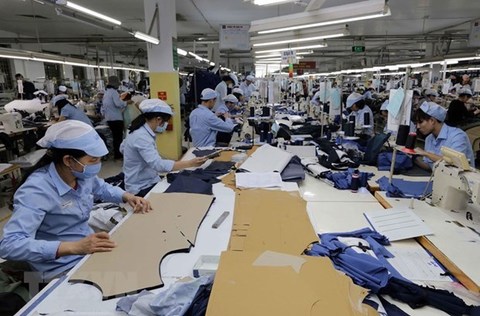 [ad_1]
Vietnam has experienced strong trade growth since joining the World Trade Organization (WTO) 15 years ago, according to the Ministry of Industry and Trade (MoIT).
In the first 10 months of this year, Viet Nam gained a trade value of $ 537.31 billion.
With 17 free trade agreements (FTAs) whose negotiations are completed or underway, Viet Nam has become an open economy with a trade-to-GDP ratio of up to 200%.
According to the Foreign Trade Agency under the Ministry of Industry and Trade (MoIT), Vietnamese companies have maximized their advantages to boost exports and enter new markets.
Export goods have also been gradually changed to increase the proportion of value-added products, well-processed products and high-tech products.
The country's total trade value increased from US $ 84.7 billion in 2006 to US $ 545.3 billion last year. In the first 10 months of this year, the figure was $ 537.31 billion.
Viet Nam has consistently recorded a trade surplus, growing from $ 1.77 billion in 2016 to $ 2.1 billion in 2017, $ 6.8 billion in 2018, $ 10.9 billion in 2019 and $ 19 billion dollars in 2020.
The value of exports of processed industrial products increased from 80.3% in 2016 to 85.2% last year.
The number of goods with an export value of over $ 1 billion increased from 28 items in 2016 to 31 items in 2020.
In addition, free trade agreements have also contributed to the rapid and sustainable development of Viet Nam's exports, reducing dependence on one or a few markets.
Deputy Minister of Industry and Trade, Tran Quoc Khanh, cited a WTO report last year as saying that among the top 50 merchandise traders, Viet Nam recorded the largest increase in the rankings. worldwide, from 39th place in 2009 to 23rd in 2019.
The figures show that Viet Nam was an open economy after joining the WTO and seriously fulfilling its commitments, he said.
In addition, the signing and implementation of FTAs ​​has helped the country attract more foreign direct investment (FDI), creating momentum for the national economy, the official added.
According to Khanh, it is the result of the implementation of many policies of innovation and restructuring of the economy associated with the innovation of growth models over a long period, the improvement of productivity and the changes in regulations.
In addition to this, there is the process of improving the business and investment environment towards modernity and transparency to create fair competition for enterprises.
However, since Viet Nam entered the world market, its export growth has been rapid but not steady and very vulnerable.
In addition, local businesses mainly processed export products or acted as trading agencies. Foreign direct investment (FDI) firms are also adapting and benefiting from FTAs ​​better than Vietnamese firms.
Products with rapid export growth rate and large export volume still have limitations in terms of productivity, area and operating capacity, such as agriculture, fishing and mineral products or depend on technology and imported raw materials, such as textiles, leather and footwear.
At the same time, the number of trade remedy investigations against Vietnamese exports has also increased.
To support businesses, Ngo Chung Khanh, deputy director of the Multilateral Trade Policy Department of the Ministry of Information, said that in addition to reducing administrative procedures, the ministry would continue its communications work to raise awareness among domestic businesses about ALE.
The ministry would speed up construction of the FTA Portal (FTAP), he said, adding that more than 20 ministries and agencies would join a task force to operate and upgrade the portal.
Deputy Minister Khanh said Viet Nam will continue to promote trade policies comprehensively and synchronously to boost economic development in tandem with sustainable development.
Viet Nam will work harder to effectively implement current international commitments and FTAs, while seeking potential partners to conduct negotiations on new FTAs, thus helping to expand trade ties in the future, he said. he declares.
Source: VNS
[ad_2]